8 Tips for New Motorcycle Owners in Georgia
You've finally bought that motorcycle you've wanted for years. Once you've got your special license and found affordable motorcycle insurance in Georgia, you're ready to hit the open road. 
Motorcycle riding is an exciting way to get around, but it can also be dangerous if you don't take the right precautions. 
In Georgia, a 2021 report from the Georgia Department of Driver Services concluded that even though motorcycles are a tiny fraction of the number of vehicles on the roads, motorcyclists represented almost a quarter of all traffic fatalities in 2019. 
With statistics like these, you want to make sure to do whatever you can to stay safe when you're out on the roads. Here are eight tips on protecting yourself when driving your motorcycle in Georgia. 
1. Carry

Motorcycle

Insurance

 

Georgia requires all drivers on state roads to carry at least the minimum liability insurance coverage of $25,000 bodily injury per person per accident, $50,000 bodily injury for all people per accident, and $25,000 property damage coverage. You also may consider adding collision and comprehensive insurance to your motorcycle insurance to pay for any damages to your bike or injuries you sustain. 
2. Take a

Safety

Course

 

To drive a motorcycle in Georgia, you must get a motorcycle license or Class M license. However, you aren't required to take a motorcycle safety course. If you are over the age of 17, you can get your motorcycle license just by passing a knowledge exam, vision exam, and motorcycle road skills test. 

There are benefits to taking a motorcycle safety course in Georgia. For starters, riders over age 17 who pass the course receive a 90-day license waiver that enables them to get their license without having to complete the written and riding tests. Another benefit is that most insurance companies will offer you a discount for motorcycle insurance if you've taken the safety course. 
3. Give

Your

Bike a Thorough Inspection

 

You should make it a routine to inspect your motorcycle each time before you take it out on the road. Things to check include: 
Tire pressure

 

Fluid levels

 

Brakes

 

Clutch and throttle

 

Lights and turn signals

 

Mirrors

 

Horn

 
4. Gear

Up

 

Wearing a motorcycle helmet is not a matter of debate in Georgia. State law requires anyone riding a motorcycle to wear a helmet, whether they are the driver or passenger. The GDDS estimates that the use of helmets saved 91 riders in 2019. 

Other motorcycle gear can be effective in minimizing injuries in an accident. Riders should consider wearing a motorcycle jacket, protective pants, boots, and gloves.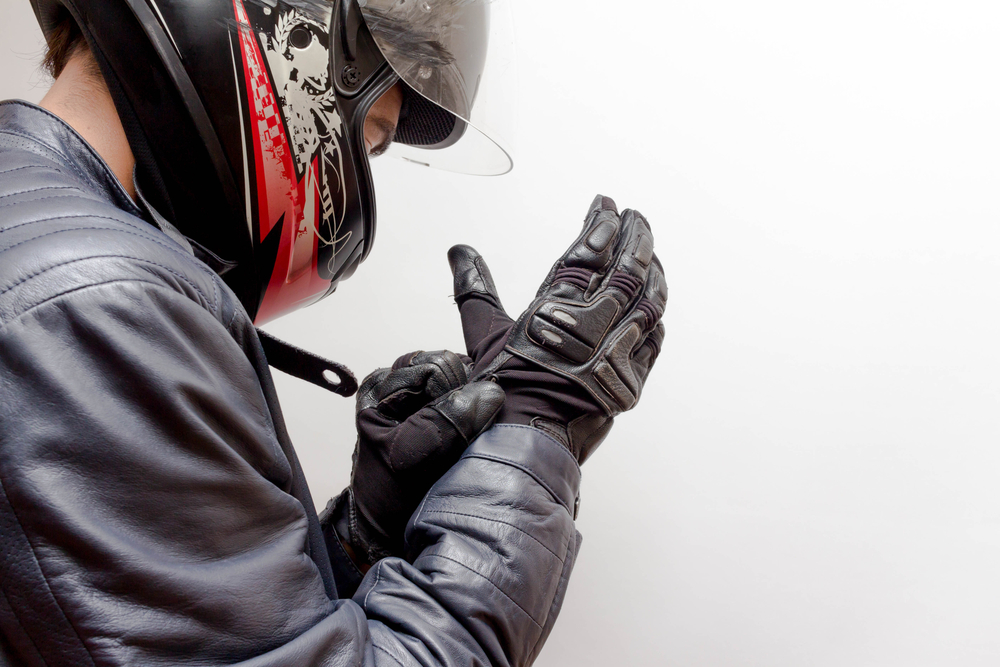 5. Follow

Traffic

Laws

 

Lane splitting, where motorcycles drive between two vehicles, is illegal in Georgia. This law also prohibits motorcycles from sharing a lane abreast with a passenger vehicle. Cyclists can share a lane with another motorcyclist as long as there are no more than two cycles abreast in the same lane. 

Motorcyclists in Georgia are also required to have their headlights and tail lights on at all times while riding. Additionally, just like all other vehicles on the road, motorcycles must obey the speed limit and adhere to any posted signs. 
6. Beware of

Weather

Changes

 

Before you take your bike out for a ride in Georgia, make sure to check the forecast. Riding your motorcycle on rain-soaked roads can be hazardous. For the most part, the weather in Georgia is perfect for riding your bike year-round. However, if the temperature dips below freezing, it is probably wise to leave the cycle in the garage and use a different form of transportation. 
7. Stay a

Safe

Distance from Other Vehicles

 

The rule of thumb for operating any vehicle on the road is to maintain a car's length between you and the car in front of you. This rule holds true for motorcycles just as much as it does for cars and trucks. Having some distance between you and the other guy will give you time to react if something happens. 
8. Drive

Defensively

 

Motorcycles are less visible than other vehicles on the road, so you should drive defensively and pay attention to what other drivers are doing or are going to do. It's easy for motorcycles to be in a vehicle's blind spot, so make sure the other driver sees you.