Affordable Motorcycle Insurance
Compare motorcycle insurance quotes and save
Get a Quote for Cheap Motorcycle Insurance in Georgia
Looking for cheap motorcycle insurance? Southern Harvest can find you great rates on motorcycle insurance or scooter insurance coverage.
Whether you're riding your motorcycle for pleasure or to save money on gas, knowing that you and your bike are protected with proper insurance coverage will put your mind at ease. Get a motorcycle insurance quote online by entering your zip code in the form above or call to talk to one of our insurance experts. We offer competitive rates on the best motorcycle insurance policies no matter what type of bike you ride.
Discounts on motorcycle insurance are also available for more experienced riders. Ask a Southern Harvest Insurance advisor about discounts for insuring multiple motorcycles or scooters, completing an approved motorcycle training and safety courses.
Do I Need Motorcycle Insurance in Georgia?
If you own a motorcycle in Georgia, then you will need separate motorcycle insurance. Your auto insurance will not cover your motorcycle. However, most auto insurance companies offer motorcycle insurance and will even offer a discount if you choose to bundle your motorcycle and auto insurance policies.
Motorcycle Insurance Options
If you've just bought a motorcycle in Georgia, you might be wondering what your options are for insurance. Here, we'll cover the basics of motorcycle insurance in Georgia.
What Are the Types of Motorcycle Insurance in Georgia?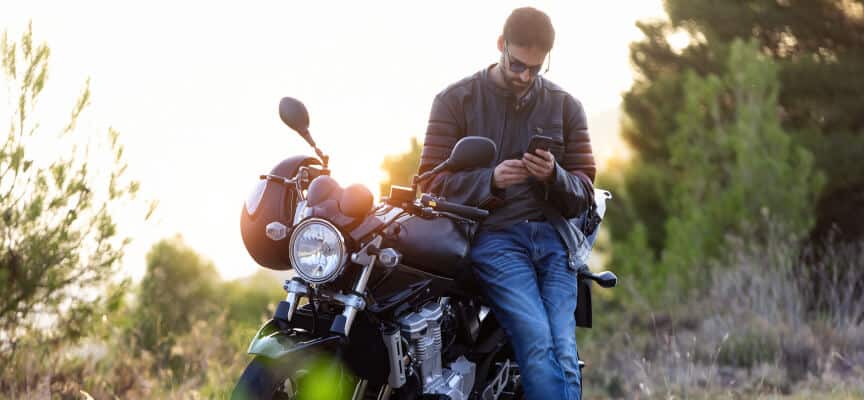 Motorcycle insurance in Georgia is very similar to auto insurance. Just like with auto insurance, there are three main types of motorcycle insurance.
Liability motorcycle insurance covers medical costs and property damage for other people if you're involved in an accident, and you're at fault. Just like with auto liability insurance, Georgia law requires that all motorcycle drivers carry at least the following liability insurance coverage:
$25,000 person for bodily injury liability
$50,000 total for bodily injury liability
$25,000 for property damage liability
Collision motorcycle insurance pays for damage to your motorcycle if you're involved in an accident, and you're at fault.
Comprehensive motorcycle insurance covers other incidents that could happen to your motorcycles, such as theft, vandalism, or damage from natural disasters.
How Is the Cost of Motorcycle Insurance Calculated in Georgia?
Your Motorcycle
Expect to pay a higher premium if you own a newer or more expensive motorcycle.
Your Age and Riding Experience
If you're younger, then expect to pay a higher premium. Riding experience also affects your rate. The longer you've been riding your motorcycle, the more of a discount you'll get on your motorcycle insurance.
Where You Keep Your Motorcycle
Insurance companies adjust insurance rates by zip code. If your neighborhood has a history of high crime or vehicle accidents, then you'll need to pay more for your motorcycle insurance.
Your Entire Driving History
If you've had traffic tickets or at-fault accidents in the last few years, then expect a higher premium. Note that most insurance companies consider your entire driving history, not just your driving history with your motorcycle.
Being Part of a Motorcycle Club
Most motorcycle insurance companies offer discounts to members of certain motorcycle clubs or associations.
How Frequently You Ride
If you only take your bike out on weekends, then you'll be charged a lower premium than if you commute to work every day on your motorcycle.
How Can I Lower My Motorcycle Insurance Rate in Georgia?
Though motorcycle insurance is often more expensive than auto insurance, there are a few ways you can reduce your premium. Here are a few options on how to reduce your motorcycle insurance rate in Georgia:
Keep a Clean Driving Record
One of the biggest factors in your insurance premium is your driving record, both riding your motorcycle and driving your car. In Georgia, insurance companies look at your past three years of driving for traffic violations and at-fault accidents. But some major violations, like a serious DUI, affects your insurance rate for longer.If you're not sure what's on your Georgia driving record, you can check the Georgia DMV and order a copy of your record.

Complete a Safety Course
Suppose you complete an approved motorcycle safety course, such as one organized by the Motorcycle Safety Foundation (MSF). In that case, most motorcycle insurance companies will offer you a discount on your motorcycle insurance premium.

Keep Your Bike Locked Up
It's extremely important to keep your motorcycle secure since motorcycles are so much easier to steal than cars. Not only will you avoid the headache of getting your stolen bike back, but you can also save money on motorcycle insurance too. Tell your motorcycle insurance company if you keep your bike in a garage at night or use an approved security system.

Increase Your Policy Deductible
If you have a collision or comprehensive insurance policy, then you can usually choose your deductible. One way to save some money on your motorcycle insurance premium is to increase your policy's deductible. In case your motorcycle is damaged, the deductible is how much money you're willing to pay before the insurance company begins to cover the repair costs. If you agree to a higher deductible, you agree to share more of the expenses in an accident or theft. As a result, the insurance company will charge you a lower premium.

Decrease Your Policy Limit
If you're not comfortable increasing your deductible, then another option to save money on motorcycle insurance in Georgia is to decrease your policy limit. This is the maximum amount of money the insurance company will pay for a covered incident. Most insurance companies offer a lot of flexibility with policy limits; though note that you cannot go below the minimum legal policy limits for liability insurance.

Avoid Gaps in Coverage
If you've had any gaps in motorcycle insurance coverage, then the chances are that the insurance company will charge you a higher premium. Gaps in coverage count, even if they were because you weren't using your bike. That's why it's a good idea to consider lay-up insurance for those times of the year when your motorcycle is in storage.
Don't Get Caught Without Motorcycle Insurance in Georgia
The penalties for getting caught without adequate motorcycle insurance in Georgia are the same as they are for auto insurance. You can face license suspension, fines of at least $200, SR-22 requirements, and possibly even jail time. The good news is that motorcycle insurance in Georgia doesn't have to be expensive. Compare your options for motorcycle insurance with Southern Harvest today with a quick online quote, visit one of our 23 offices in Georgia or give us a call at 877-831-4677.