What Some Common Car Maintenance Services Will Cost You in Georgia 
Everything from regular wear and tear to vehicular accidents requires car maintenance and repairs. Fortunately, your auto insurance in Georgia can help you pay for covered damages after a wreck. However, routine maintenance is not covered under most auto insurance policies. So how much will this upkeep set you back? 
Here are some of the more common maintenance services and ranges of what you might pay in the Peach Tree State. 
Just remember, your actual costs will vary greatly depending on the make and model and condition of your vehicle, where you have the repairs done, and other factors. Also, do your homework before heading to a mechanic to avoid being overcharged. 
Oil Change and Filters
Let's start simple, eh? This service is likely the most frequent and probably the cheapest. Just stop in at any quick-stop automotive garage. It can typically cost anywhere from about $35 to $75 for most models. Keep your receipts because you may need them somewhere down the road if your vehicle has a recall. 
Brakes
This one's a lot tougher to gauge. If you're proactive and have the work done before your brake system makes metal-to-metal contact, the cost will be much lower than if you end up getting towed to a garage after complete brake failure. 
That said, you can spend anywhere from about $535 to $700 or more to replace brake pads, rotors, and calipers. If you drive in Atlanta, Augusta, or other larger Georgia cities, the frequent stops and starts can wear out your brakes faster than if you live in a much smaller town or rural area with less traffic and fewer stoplights. 
Tires
One of the more common causes of the need for roadside assistance is a flat tire. That might be because of a car accident, a sharp object in the road, or simply because your tread is low and the tire is at the end of its useful life. 
Regardless of the cause of failure, it's likely that all of your tires will have to be replaced at least once while you own your car. 
If it's not a matter of one tire being prematurely destroyed by vandalism, road accident, or other cause, it's likely that the tire is simply at the end of its tread life. That being the case, your best bet is to replace all of your tires at once if you can. After all, assuming that all four tires were new at the same time, the tread wear is probably more or less equal for all tires. 
It will vary greatly depending on multiple factors, but the cost of new tires and installation might typically be $150 per tire or $600 for a new set of rubber. Don't forget that a tire hazard protection plan can help with the costs of tire repairs.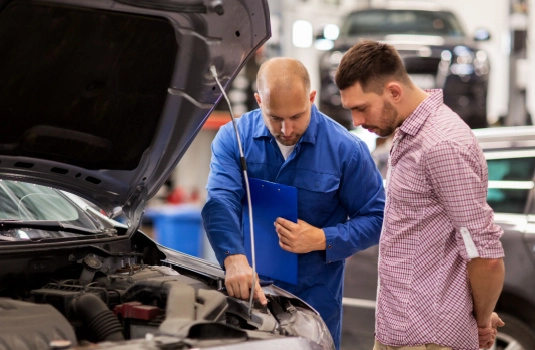 Engine Tune-Up
A tune-up keeps your engine running efficiently and reliably. Older vehicles should get this service every 10,000 miles or so. Newer rides with fuel injection systems can go at least 25,000 miles without a tune-up to as much as 100,000 miles. 
The cost depends on your car's needs once your automotive technician performs the inspection. It usually means new spark plugs and wires and can involve an oil change, replacement of air and oil filters, the PVC valve, distributor cap, and other engine components, as necessary. 
The cost of a total tune-up in Georgia can range between about $200 to $800. 
Use Your Roadside Assistance Benefits When Your Car Breaks Down
You can make all of your scheduled maintenance appointments and still end up on the side of the road with a smoking engine, flat tire, dead battery, or, well, the reasons for automotive breakdown are just about endless. 
That's why your car insurance coverage needs to include roadside assistance. 
Georgia insurance laws state that you must carry at least liability coverage. But that only protects other drivers, passengers, and property in the case of a car accident where you're at fault. Liability won't cover your own vehicle. 
More complete coverage, which includes collision and comprehensive, covers repairs or the replacement of your vehicle, as well as damage inflicted by uninsured drivers. 
When you add roadside assistance for 24/7 emergency help, a technician will show up when needed for whatever service you require – including a tow to a nearby garage if your need is not within the scope of an offsite technician. 
Call your independent auto insurance agent today to get budget-friendly auto insurance in Georgia.