Preparing for a Spring Road Trip – Make Sure You Stay Safe
Ahh, the open road. The pleasure in taking a road trip through the southern U.S. can be in the journey just as much as in the destination. 
As the weather starts to warm up this spring, you may be itching to pile your family in the car and head to destinations known or unknown. Whether you are heading out for Spring Break or just an extended weekend trip, there are certain steps you'll want to take, including making sure your car insurance is in order, before you leave. 
Protect Yourself with

Low-Cost

Car Insurance

 

Ensuring that you are protected with low-cost car insurance is essential before venturing out on a spring road trip. Even if your road trip takes you outside of the Georgia state lines, as a Georgia resident, you are still required to carry at least the minimum liability insurance coverage to pay for injuries or property damage to another driver. The state requires all drivers to carry: 
$25,000 bodily injury liability per person

 

$50,000 bodily injury liability per accident

 

$25,000 property damage liability

 
It's also a good idea to carry comprehensive and collision insurance, even though it's not required by Georgia state law. Liability insurance only covers injuries or vehicle damage to other people and their property if you cause an accident. Comprehensive insurance covers damage to your vehicle outside of an accident. Collision coverage helps pay for damages to your vehicle that result from a car wreck. 
Stay safe on

the

road

 

Before you hit the road, there are precautions you can take before and during your trip to make sure everyone stays safe. 

According to the Association for Safe International Road Travel, more than 38,000 people die in crashes on U.S. roadways every year. An additional 20-50 million suffer non-fatal injuries, often resulting in long-term disabilities. 
What are 10 Easy

Tips

to Stay Safe in Georgia?

 

Here are ten spring break driving tips to keep you safe on your road trip. 
1. Get your car

tuned

up for the trip

 

The most important thing that you can do to ensure your safety when you head out on a road trip is to make sure your vehicle is in tip-top shape. Your travel-ready tune-up should include: 
An oil change

 

Tire pressure check

 

Wiper fluid fill

 

Wiper blade check and possible replacement

 
You should also make sure that you have a working spare tire and the equipment you'll need to change a tire if you get a flat. 
2. Keep an

emergency

kit in your car

 

The National Safety Council recommends that drivers always have an emergency supply kit in their car at all times, whether you are going on a road trip across the country or just driving to the other side of town. The kits should contain: 
Jumper cables

 

Tool kit or multipurpose tool

 

Flashlight with extra batteries

 

Compass

 

First aid kit

 

Reflective triangles, a reflective vest, and bright cloth to make your vehicle more visible

 

Fire extinguisher

 

Duct tape

 

Cell phone charger for your car

 

Rain poncho

 

Water and high-energy snacks

 
If your road trip takes you to an area that will or could have snow, you should also take a snow scraper, shovel, cat litter (for traction), warm clothing, and blankets. 
3. Plan your

music

or podcasts

 

Changing your radio station or fiddling with your phone trying to find your favorite podcast can be dangerous when you are driving. Even the slightest distraction can end up causing an accident. To prevent this from happening, try planning what you are going to listen to on the trip before you hit the road. Get those podcasts or audio books queued up and ready for the open road. 
4. Make sure you

have

roadside assistance

 

Most car insurance policies offer roadside assistance to policyholders for little additional cost. This can be a lifesaver if the unforeseen happens like your vehicle breaking down on the side of the road, getting a flat tire, running out of gas, or a dead battery. Adding roadside assistance to your car insurance can cost as little as an extra $5 per month, but the value it provides in a time of need is priceless. Roadside assistance usually provides 24-hour emergency towing service, lost key and lockout service, and even rental car discounts and cost reimbursements.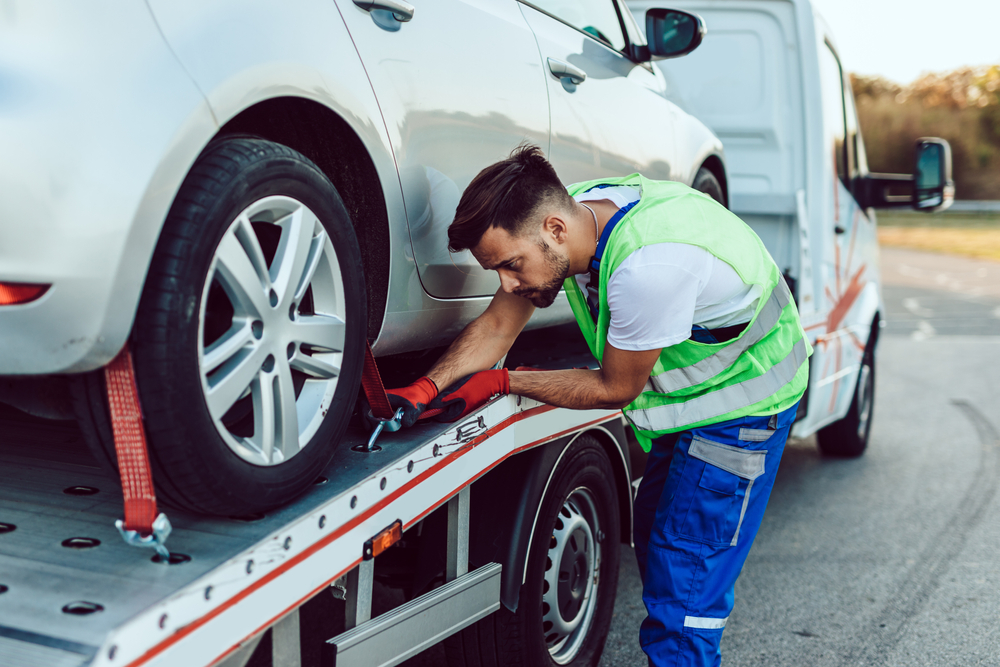 5. Avoid busy travel

times

and congested cities

 

The last thing you want is to get stuck in rush hour traffic while driving through big cities like Nashville or Atlanta. To avoid wasting time in traffic, plan out your route beforehand and schedule those big city drives to avoid morning and evening commutes. Traveling during the week (during non-rush hour times) also may be a wiser idea than during the weekend when many other drivers are road-tripping. 
6. Pay attention

t

o the speed limit

 

Mind the speed limit where you are driving. If you're taking back roads on your road trip, the speed limit can change quickly, especially when you're entering small towns. You don't want your road trip soured due to an expensive speeding ticket. Ignore other drivers who pass you like you're standing still. Let them get the speeding ticket! 
7. Rest up and

take

turns driving if you can

 

It's always a good idea to rest up before starting your road trip, so you don't get tired during the drive. The National Highway Traffic Safety Administration estimates about 100,000 crashes per year are caused by drowsy driving, resulting in nearly 800 fatalities and about 50,000 injuries. 

If you have one or more friends road-tripping with you, take turns driving. You'll not only be well-rested with these breaks, but you can also enjoy the scenery. By taking turns driving, you can probably travel longer in a day because everyone gets adequate time to rest. 
8. Watch

your

gas tank

 

Keep an eye on your gas tank to make sure it doesn't get too low. A good guideline is to fill up when the gas gauge indicates a quarter of a tank left. That way, if you hit a stretch of road where gas stations are few and far between, you won't risk the chance of running out of gas in the middle of nowhere. 

Keep in mind, if your travels take you into colder climates where the temps can drop below freezing, your gas lines could freeze. 
9. Buckle

up

 

Wearing a seat belt when you're in the car is not just recommended for your safety, it's the law. According to the National Highway Traffic Safety Administration, more than half the people killed in crashes in 2018 weren't buckled up. Make sure that you, and everyone else in the vehicle with you, are safely restrained in their seat belt. 
10. Protect

yourself

against COVID-19

 

The possibility of contracting COVID-19 is still a threat, especially if your road trip takes you to areas with high infection rates. 

You can take steps to help protect yourself from contracting COVID while on a road trip. Try limiting the number of times you stop along the way to minimize the number of people you come in contact with to reduce your chances of contracting the virus. To do this, it's a good idea to plan out your trip–where you're going to eat, how often you'll stop, and where you're staying. You may even want to pack snacks for the road, so you don't need to stop as much – and that could even save a little money. 

Carry a mask to wear when you need to go inside places where there are other people. It's a good idea to carry some hand sanitizer and sanitizing wipes in your car to disinfect your hands, door handles, or for bathroom areas that you need to use.