The Secrets Behind Why Your Car Insurance in Georgia Is So Expensive
Car insurance in Georgia is necessary to help protect the investment you've made in your vehicle. While there are many options for finding affordable auto insurance in Georgia; there are certain factors that can increase your insurance premium rates.
The price you are charged for car insurance all comes down to risk. When calculating your premiums, your insurance carrier assesses the amount of risk they'll incur by taking you on as a customer. The higher the risk, the higher the cost – if you are perceived as a higher risk driver, you'll be perceived as being more likely to have claims.
Of the many factors that go into how much your car insurance will cost each year, you may have control over some of those factors, such as your driving record, credit score and the vehicle you drive. Other factors impacting your insurance costs are things you can't control, such as your age and the area where you live.
Here's an outline of the factors that impact your cost for car insurance in Georgia, both those you have control over and those you don't.
What Factors Impacting Your Car Insurance Rates in Georgia Are Beyond Your Control?
It's not like you can change your age or the number of insurance claims made in your neighborhood to help you reduce your car insurance cost. Those factors beyond your control when it comes to your price for car insurance include:
Your age
How old you are plays a major part in how much you will pay for car insurance in Georgia. Insurance rates for younger drivers can sometimes be as much as twice that for adults in their 30s, 40s, and 50s. As any parent of a teenager who just got a driver's license knows, car insurance coverage for teenagers is more expensive than drivers in any other age bracket. Drivers over age 65 will also see their car insurance premiums start to rise the older they get.
Your gender
Car insurance premiums for teens just getting their license will vary depending on their gender. Like it or not, young men usually have to pay more for car insurance than young women. The cost difference can be as much as 16 percent more. Once drivers turn 20, their car insurance costs start to decrease, and the gender disparities eventually even out.
Where you live
The state, city, and neighborhood you live in can also impact how much you pay for car insurance.
If you live in a busy city, you will most likely pay more for car insurance than drivers who live in rural areas. Densely populated areas have more drivers and therefore have a higher chance of accidents. For example, Atlanta's average full coverage car insurance premium costs $2,676 per year, while the average full coverage annual premium for Valdosta residents is about $1,500.
Insurance costs can also vary depending on the zip code where you reside. Drivers living in zip codes with high crime and a large number of auto thefts may have to pay more for car insurance than drivers living in low-crime areas. The number of claims filed by your neighbors can also impact how much you are charged for your car insurance.
What Factors Impacting Your Car Insurance Rates in Georgia Are Within Your Control?
Many of the factors that insurance companies use to calculate your car insurance premiums are things that you can control and even change. Those factors are:
Your driving record and claims history
If you have a lead foot and have gotten a lot of speeding tickets, you will probably have to pay more for your car insurance in Georgia than drivers with clean driving records. The reasoning boils down to risk. The insurance company deems drivers with a history of tickets, accidents, and other infractions as high-risk and more likely to file a claim. High-risk drivers are charged more for car insurance than those who are deemed to be low-risk drivers.
Drivers will also have to pay higher rates for car insurance if they have a DUI or other more serious traffic violations on their record that requires them to obtain SR-22 insurance. SR-22 insurance is a certificate of financial responsibility that proves you have at least the minimum liability insurance required by Georgia state law.
You can also expect the cost of your car insurance to go up if you've filed several claims. Car insurance rates for Georgia drivers can increase as much as 60% after an accident and remain at an elevated cost for several years.
Your credit score
Maintaining a high credit score isn't only beneficial for borrowing money. It can also save you money on your car insurance in Georgia. Insurance companies may look at your credit score when deciding what to charge you. In the eyes of your insurance company, drivers with bad credit may be more likely to file a claim than other drivers.
Although some states prohibit insurance companies from using credit scores to determine premiums, Georgia is not one of them. So, if you want to save money on affordable car insurance in Georgia, you should make sure your credit score is above 700.
The car you drive
That slick convertible hot rod you're considering buying might impress your friends, but it will also cost you more in car insurance. Sports cars and high-end vehicles like a Tesla, BMW, or Porsche are more expensive to insure than a boring old sedan or mini-van. Expensive sports cars are at higher risk of being stolen or getting into accidents. They also cost more to repair.
Insuring a new car is more expensive than insuring an old one. That's because the cost to repair or replace a new vehicle is typically higher than it is for an older vehicle. You can save money on your car insurance premiums if your vehicle has certain safety features such as anti-lock brakes and airbags.
Your insurance policy coverage
The amount of coverage and the deductible that you choose on your car insurance policy impacts what your policy will cost you. In Georgia, all drivers must carry minimum liability insurance coverage of $25,000 for bodily injury per person, $50,000 for bodily injury per accident, and $25,000 for property damage. If you decide to increase the amount of liability coverage on your policy or add comprehensive and collision insurance, your premium will go up.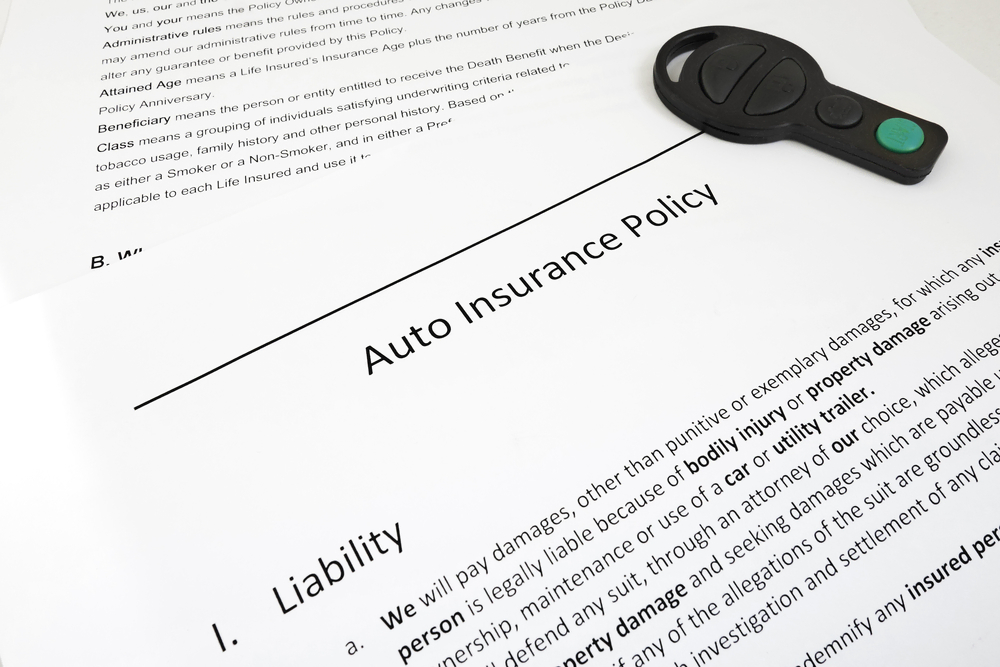 The deductible on your car insurance policy is the amount you have to pay before the insurance kicks in. The lower your deductible is, the more you'll be charged for your insurance premiums and vice versa. Additional coverage options, such as roadside assistance or tire hazard protection, also increase the cost you'll pay for car insurance, but come with increased peace of mind.
Your insurance company
Not all insurance companies are created equal. There can be a significant difference in the cost of car insurance in Georgia, depending on your insurance carrier. Policies at some insurance providers can cost as much as $1,000 more than others for the same coverage. That's why it's important to shop around and compare quotes from multiple companies when you are looking for affordable car insurance in Georgia.
Bundling your car insurance with other insurance such as renters, homeowners, or life insurance is an excellent way to help lower your premiums. Most insurance carriers offer some kind of discount for bundling your coverage.
Your insurance company may also offer specific discounts that can help you reduce your costs for car insurance. It could offer discounts for safe drivers, paperless billing, and even for students who get good grades, so don't forget to ask about discounts when you are looking at different insurance policies.